1. Where did you / the team get inspiration for the brand design?
The source of our branding inspiration came from the development philosophy of Gryphon's Taiwanese founder, Jin Ray. A deep appreciation and passion for art and culture is evident in their developments, and it was important for us to include this approach to their branding in Vancouver.
2. What is unique about the Gryphon brand?
Gryphon's unique approach to development was the foundation of what inspired our branding. They see each new project as a blank canvas, an opportunity to create a unique vision that is specific to the inherent characteristics of that project. That same idea is captured in our branding, with a three-dimensional framed G representing the development and structure, and a canvas offset G in the background representing the specific application of the branding.
3. What are the key steps to designing the Gryphon brand? 
The main criteria in creating the Gryphon brand was capturing the essence of art, culture and imagination, while still communicating the integrity and credibility.
4. There are various renditions of the Gryphon logo – some show natural elements, some show textures – where did this idea come from?The tagline is simple and impactful (Every Home Original. Every Home Art.) – Rarely do we see real estate development combined with the concept of art – how did you decide on this tagline?

The branding is intended to echo Gryphon's development philosophy, so the logo was designed to be adaptable to its specific application, using natural elements where appropriate or other textures and images when required to communicate the essence of a neighbourhood, an artistic theme or cultural reference.
For the slogan, we wanted to create a single phrase that spoke to the core belief of Gryphon – that every project is a chance to express the uniqueness of art. We feel that "Every Home Original. Every Home Art." captures the true essence of Gryphon perfectly.
About Si Huynh / Strategy & Creative Director at BAM Communications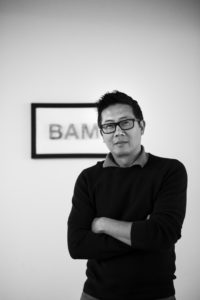 Once the mastermind behind many national and international corporate identity programs for companies such as ICBC, Korn Ferry International, Xerox Canada, John Hancock, A&W Food Services and BC Hydro, Si has refined his strategy and creative mind over the course of 27 years in the industry. His ability to pick apart complex ideas and to implement them in a simple and elegant way is a skill his clients appreciate. Asides from helping companies build their brands, Si also inspires the next generation through mentoring creative minds at Capilano University.